Jobst
Jobst Women's Opaque CLOSED Toe Knee High
Jobst® Opaque stockings are designed to look and feel like elegant opaque hosiery while incorporating gradient compression. Offering softness, ease-of-donning, and a lightweight design, the Jobst Opaque compression stocking is ideal for formal, semi-formal, or casual occasions.
May qualify for HSA and FSA payment
JOBST® Advanced comfort wicks moisture and helps provide a cooler, comfortable wear
Breathable Opaque texture provides a flawless finish for the look of a fashionable Tight or for concealing imperfections
Exceptionally soft yarns for easier donning and better comfort
Compression:  15-20 mmHg; 20-30 mmHg; 30-40 mmHg
Colors:  Natural; Classic Black; Honey; Navy; Espresso
Sizes:  Small; Medium; Large; XLarge, Large Full Calf; XLarge Full Calf
NOTE:
Full Calf option is not available in 15-20 mmHg. 
Full Calf option is available ONLY in Colors Natural and Classic Black in 20-30 mmHg and 30-40 mmHg.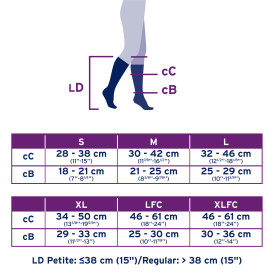 HCPCS Code/CPT Code A6530 for all KNEE Highs 15-20 mmHg; 20-30 mmHg; 30-40 mmHg
75% Nylon; 27% Elasthane/Spandex
Hand washing with Jolastic Washing Solution is recommended to protect the elastic fiber and help prevent fading.  Proper care of your garment extends its longevity.  
Jobst Women's Opaque CLOSED Toe Knee High