Jobst
Jobst Women's UltraSheer OPEN Toe Knee High PETITE Length
Jobst UltraSheer is the ultimate medical compression stocking when it comes to today's discerning female.  Designed specifically for women who prefer a formal look, Jobst UltraSheer offers unparalleled sheerness in a lightweight design that is ideal for daily activities or more formal occasions.  The epitome of style, fashion, and function, only you will know the stocking you are wearing has medical benefits.

May qualify for HSN or FSN payments.
Open toe feature for wear with sandals and for toe comfort
Sheer look is fashionable and functional

All-day comfort knee band secures fit and wearing comfort
Jobst Advanced Comfort wicks moisture and helps provide a cooler, comfortable wear
High stretch capabilities for easier donning and better  comfort 
Compression:  20-30 mmHg
Colors:  Natural and Black
Sizes:  Small-Petite; Medium-Petite; Large-Petite; XLarge-Petite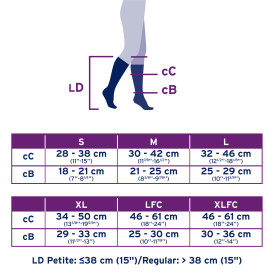 HCPCS Code/CPT Code A6530 for all KNEE Highs 15-20 mmHg; 20-30 mmHg; 30-40 mmHg
75% Nylon; 27% Elasthane/Spandex
Hand washing with Jolastic Washing Solution is recommended to protect the elastic fiber and help prevent fading.  Proper care of your garment extends its longevity.  
Jobst Women's UltraSheer OPEN Toe Knee High PETITE Length